Artists Theo Eliezer and Micah Learned give an exclusive sneak peek into the forthcoming issue of their print publication exploring Internet aesthetics, sexuality, and the decline of 20th-century media.
Editor's Note
New Orleans-based print publication and self-described "nudie mag" Momma Tried are preparing for the fall launch of their third issue, which includes an experimental augmented-reality component. Timed with their current Kickstarter campaign, which allows readers to pre-order copies of the magazine, creators Theo Eliezer and Micah Learned preview three photo shoots from the new issue, share some behind-the-scenes Polaroids and animated GIFs, and discuss their thinking behind the project's development.
Momma Tried is a conceptual print publication examining the decline of 20th-century media. Through non-heteronormative nude editorials, we use issues of gender, identity, body politics, and pop culture as the visual anchors for each issue. Thus far, these explorations have taken the form of two nudie mags combining photography, essays, and fake ads (which we call Disruptive Content).
But since Issue 2, which we released in 2015, Momma has become sentient, and she's now aware of her own mortality as a print object. In an effort to resist obsolescence and death, she's attempting to turn herself into a cyborg. Reflecting her state of awareness and identity, Issue 3 is taking shape through themes of futurism, the uncanny, existential horror, and Internet aesthetics, as well as an embedded augmented-reality layer visible only through a smartphone application, free to download for both iOS and Android.
Our augmented-reality app will use your smartphone's or your computer's live camera view to create an effect that seems to collage digital images onto the real world (most closely resembling the special effects used in the Harry Potter films for the magic newspaper). In short, when you activate the app and use your smartphone camera to view the magazine, still pages will appear to become animated, photographs will be activated as videos, and pages of text will rearrange, revealing hidden messages.
Here's a sneak peek of what we have in store.
---
Baby Soft
Baby Soft examines symbols and accessories of infancy and early childhood that are part of the gender conditioning that follows female-identifying people into their adult lives. We are particularly interested in pink satin sheets, which oddly appear almost exclusively in cribs for infant girls and as "sexy" bedding for adult women, existing as a dual symbol of infancy and sexual availability. This shoot includes both female and male friends embodying the symbols of baby-soft femininity and the babygirl, crybaby, and bambi Internet aesthetics.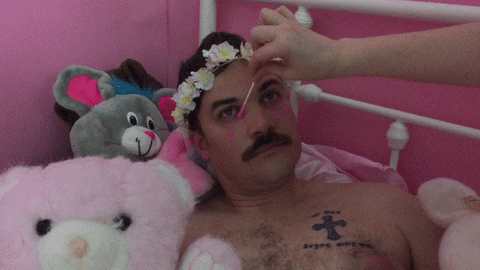 The photo series Winona Forever explores grunge aesthetics of the '90s as they are currently being misremembered by the Internet. Alongside clothed and nude models, figures in zentai suits embody the Internet's contamination of our recollections, manifested here as externalized glitches in remembrance and perception. The zentai characters are a personification of the limited function of our memories, which are not reflections of reality, but rather just our brain's impression of the last time it recalled something (like a Xerox of a Xerox). Winona Forever represents what this distortion looks like over time as our personal memory files are corrupted by elements from internal and external influences.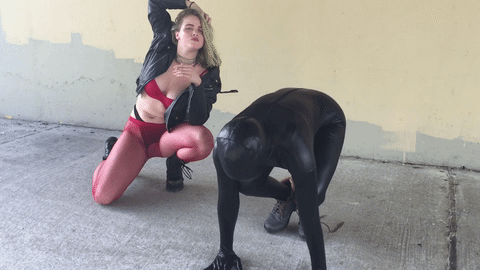 This editorial, which we shot both in our studio and in a pool, was inspired by the Internet aesthetics clear and pale, paired with a loose backstory influenced by Japanese ghost folklore and J-Horror. In Japanese folklore, there are many classifications of ghosts and spirits, many of whom are female, which inspired us to create a character of a non-binary drag-queen ghost. Their hands are painted to look like they have frostbite—a nod to Yuki-onna snow spirits—and their almost floor-length wig references the long hair of the yūrei.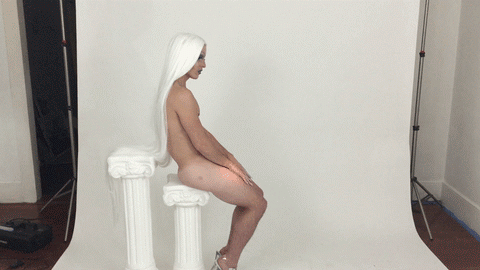 Editor's Note
Momma Tried Issue 3 will be released in September 2017.